Mini-Solo Exhibition at the Newport Art Museum-Museum School
DISCOlour: The Light Paintings, Bradley Wester at The Newport Art Museum's Education Center. Through 24 June 2023. Capturing the disco light frozen in time.
---
Solo Exhibition: DISCOrd #1: Zip Tied at Farm Projects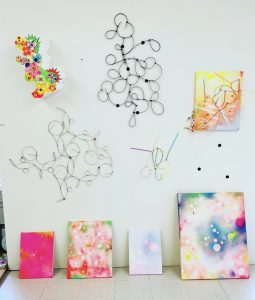 Bradley Wester DISCOrd #1: Zip Tied at Farm Projects, Wellfleet MA, September 2–14, 2021
Much of my work for the past two decades is made of unlikely, non-art materials—everyday items, ephemera, or, at the very least, cheap, colorful, shiny craft materials not considered the makings of so-call 'high art.' One such cheap material is brightly colored nylon zip ties, for which I have also discovered stainless steel zip ties.
This work marks the beginning of a new body of work I am calling DISCOrd:
Zip ties, or cable ties, have come to be associated with restraint and incarceration (handcuffs). The nightmare image of one of the January 6, 2021 Capital insurrectionist traitors carrying a bundle of stolen zip tie cuffs into our hallowed Senate Chamber sent shivers. In this moment of national discord, the new zip tie pieces are my joyous remedy. The DISCOrd work, which also included new 'disco-light' paintings, continues to celebrate queer shine's ability to turn hate and oppression into utopian futurity, as it celebrates queer aesthetic's refusal to submit.
---
Spacing Out: Expanding the Field of Vision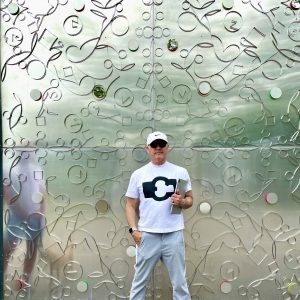 Group Show curated by Karen Conway at the Jamestown Arts Center, July 2 – August 14, 2021
Spacing Out: Expanding the Field of Vision unites art that blurs the boundary between two- and three- dimensions. Spacing Out contextualizes the work of contemporary artists who challenge the limitations of space among historical works that also play with dimensionality. It asks the viewer to reconsider their visual and spatial perception, questioning the art's depth and attachment to a surface. This surface, as well as edge, texture, scale, volume, place, and movement become the dialect with which the artists expand our concepts of sculpture and art in general.
Spacing Out features the work of Kate Barber, Jennifer & David Clancy, Tom Deininger, Peter Diepenbrock, Lesley Dill, Kevin Gilmore & Seamus Hames, Hugh Hayden, Tayo Heuser, Susie Matthews, Alicia Renadette, Edwin Schlossberg, Wendy Wahl, and Bradley Wester.
---
Jun 7–Jul 14, 2019
DEAD RINGERS, a group exhibition guest curated by Elizabeth Duffy at the Bristol Art Museum opens on Friday, June 7th, 6-8pm. Featured will be my "Disco Intervention: Queering the Military" digital print series, along with the work of eight other artists from six states.
At first glance, the artists in Dead Ringer construct familiar objects: a bikini, a brick, a faceted glass vase. But on closer inspection, an undercurrent of disquiet and hidden meanings emerge. These artists ask viewers to disassemble their works, to consider both what they think they see and the epiphanies and realities that come with closer looking. Calm and order are vastly overrated in this moment of #MeToo, fake news and inexorable cruelty. Each of these artists makes works that are indelible, jaggedly smart and timely, looking at our moment and refusing to sugar-coat its anxieties.
In these arresting, transgressive images, artist Bradley Wester has found online rare and now impossible to find photos, taken by British military cadets of each other at basecamp. Some appear to be documenting hazing rituals. The most 'humiliating' of which are the ones that feminize or 'make queer' the soldier, including making them kiss or wear woman's underwear. Others are images of genuine affection between soldiers, who may or may not be gay. Wester digitally inserts a hovering mirror ball into each of these scenes, referencing both disco and surveillance drones, in an attempt to turn the implicit misogyny and homophobia in some of these images on its head. In a different context, outside the military, men dressing as or performing like women can be a celebratory expression of fluidity and diversity. The iconic disco ball, in Bradley Wester's Queering the Military Disco Intervention series, is symbolically meant to 'disarm' these images of soldiers not fighting, and render them part of a kinder, tenderer, sexier, more diverse place.
Bradley Wester takes photos of disco balls wherever he is in the world. He inserts the disco ball into his Disco Intervention series to look as if native to the scene, where the reflections actually appear to match the larger image. The found military images from the internet are low resolution. Wester increases the resolution and cleans up the images which finally have a hyper-real, videogame feel.
The Bristol Art Museum Presents​
Dead Ringer
Guest curator Elizabeth Duffy
On view June 7th– July 14th, 2019
​Artist Reception | Friday, June 7th @ 6-8 pm
525 Hope Street (rt 114)
​Bristol, RI
​02809
---
March 22, 2018
A moving experience and honor to help get a screening of the Diane Torr documentary MAN FOR A DAY at The Museum of Modern Art, and then to read a piece from my book-in-progress (at MoMA!) about Club 57, the early 80's in NYC, a near death experience, and Diane's and my early collaboration at St. Marks Danspace in 1982. It was the first part of the day-long above mentioned event/symposium, in conjunction with MoMA's exhibition, "Club 57: Film, Performance, and Art in the East Village, 1978–1983." Thank you, MoMA curators Ron Magliozzi and Sophie Cavoulacos.
---
June 23, 2017
An honor to have worked on this final realization of a collaboration with eminent composer Eve Beglarian: Light up Your face, that we may be rescued. In Memory of slain James Craig Anderson and slain civil rights activist Medgar Evers. My contribution appears in the last two minutes in this under five-minute piece—the color pixel video of Evers' home, site of his murder. (With technical expertise from Bruce Tovsky. Additional video by Matt Petty.) Eve and I presented the first version of this collaboration in 2013, live on stage, for The Day Before: November 21, 1963, a special evening presented by Symphony Space in New York City of works by over 60 Hermitage Artist Retreat fellows. The event was conceived and produced by Symphony Space's artistic director Laura Kaminsky and Hermitage Artist Retreat.
---
July 7–August 13, 2017
Group show curated by Emily Colucci
---
July 1, 2017
Solo exhibtion of the third installment of DISCOurse.
---
June 1–4, 2017
Attending the NonfictioNOW 2017 conference in Reykjavik, Iceland.
---
February 26, 2016
Studio visit-critiques with Tulane's Newcomb Studio Art MFA Graduate Students; New Orleans
---
February 12-March 14, 2015
First solo exhibition with the singular Pavel Zoubok Gallery in New York. This will be Part 2 of the project, DISCOurse: "DISCOurse imagines, in the here and now, a (queer) utopian futurity that is diverse, optimistic, joyous and fun—it puts the disco back into critical discourse."
---
December 3-8, 2015
I am included this year in the group exhibition ART IS HOPE which will be held during the celebrations for AIDES'—Europe's leading NGO in the fight against Aids—30th anniversary from December 3 – 8 in the new premises of PIASA Group (one of the main Parisian auctioneer with Sotheby's and Christie's) situated in Paris' golden triangle next to the Elysées Palace and the Hôtel Bristol, Paris 8. Catalogue will be available.
---
April 24-June 1, 2014
First Solo Exhibition with Yellow Peril Gallery, Providence RI
---
March 31-April 1, 2014
Graduate Fine Artists and Advance Painting critiques, and lecture.
---
March 17-30, 2014
Two more weeks at the invitation-only residency on the beach of the Gulf of Mexico in south Florida: Artist who contributed to The Hermitage's special evening last November at Symphony Space in New York called "The Day Before" have been asked back.
---
February 24-26, 2014
Lecture and 30 minute one-on-one critiques with all senior fine art majors, in chilly February Hanover New Hampshire!
---
November 2013
Bradley Wester created a moving digital projection for the consummate composer, Eve Beglarian, that will act as visual counterpoint to a short piece called "Light Up Your Face" written for The Day Before: November 21, 1963, a special evening of short works presented by Symphony Space in New York on Friday Nov 8, 2013 at 7:30 pm. All works are created by over 60 Hermitage fellows—artists, composers, writers—specifically for this event. Beglarian and Wester first met as fellows at The Hermitage Artist Retreat. Other contributing artists include Nico Muhly, Craig Lucas, Bill Morrison, Phil Kline, Arthur Kopit, Bora Yoon, John Guare, Nathan Currier, Doug Cuomo, Lera Auerbach, Josip Novakovich, and Fang Man. Performers at Symphony Space include soprano Megan Weston, bass-baritone Robert Osborne, pianist Margaret Kampmeier, and actors BD Wong, Carson Grant, Olympia Dukakis, and Eisa Davis.
A longer version of  "Light Up Your Face" will be performed at ROULETTE in Brooklyn on Sunday November 10, 2013 at 8:00 pm: New York-based new chamber group loadbang will perform world premieres of music for the ensemble and electronics by Scott Worthington, Gary Philo, and Nate Wooley in addition to Eve Beglarian's Island of the Sirens. They will then join forces with the ensemble BRIM to perform the music of Eve Beglarian.
---
Winter 2013
Bradley Wester will teach 'On the Matter of Color', a part seminar, part studio interdisciplinary class using the book, Chromophobia by David Batchelor as a jumping-off point to discuss the socio-political-cultural history of color. Each chapter will leadoff the conversation for that week. There will be supplemental readings and presentations. At least three studio projects will be assigned.
---
July 2012
Summer Forum for Inquiry + Exchanges seeks to nurture and facilitate conversation and creative exploration through an examination of contemporary texts.
Participants will meet in New Harmony, Indiana for a one-week summer residency to engage in an extended dialogue centered on directed readings and a prescribed theme. The texts are culled from a broad spectrum of materials: fiction, non-fiction, poetry, theory and criticism, comics, blogs, online forums, tweets, etc.
The dialogue generated during the week is the focal point of the Forum, empowering the engaged community and legitimating the spontaneous collaborative scholarship created in the space. The strength of the dialogue lies in the disciplinary diversity of the participants — writers, artists, thinkers, musicians, students, teachers, scientists, consultants, etc. — along with the concerted move away from specialization and instead toward generalized study.
---
August 25 – November 30, 2011
AIR Antwerpen is an international residence project for artists. In the former lockmanís residence the project has obtained a fabulous postindustrial location with the help of the Port of Antwerp. It is located on the border between the old and the new harbour, close to the city centre.
AIR Antwerpen is more than a receptive workplace for artists from abroad. The organization wishes to profile itself as a breeding ground for contemporary art, a place where art is developed and where artistic research is pursued.
---
July 2011
The California State Summer School for the Arts, commonly known as CSSSA, is a four-week, pre-professional art-training program for exceptional high school students that is held each summer at the California Institute of the Arts.
---
March, 2011 & January, 2012
"Our artists, from around the world, live and work in — and are inspired by — five "Old Florida" buildings that have been lovingly restored into living space and studio space. Fifteen miles of Gulf of Mexico beach stretch north and south and endless miles of aquamarine water reach to the western horizon…" Browse the artists who have been selected, learn about their community programs,and check calendar for upcoming events.
---
June 23 – September 10, 2010
Click above for an interesting article that captures a leftist, post-capitalist, global Berlin now.
---
March 8 – April 30, 2009
ROCA (Rockland Center for the Creative Arts)
Nyack, NY
---
October 22 – November 29, 2009
Margalef & Gipponi Contempory Art
Antwerp, Belgium
---
February 28 – April 11, 2009
Rupert Ravens Contemporary
Newark, NJ
"'Next Post,' an impressive show of 18 simultaneous solo projects by artists from Europe and America, grabs your attention from the moment you walk in the door. "
-The New York Times
---
Fall 2007 to Spring 2010
Teaching Advanced Painting & Senior Thesis
Ringling College of Art and Design
Sarasota, FL
---
December 16, 2008 – January 10, 2006
KUMUKUMU
42 Rivington Street New York, NY 10002
---
Summer 2008
Kyoto University of Art and Design
Kyoto, Japan
---
May 24 – September 7, 2008
Group Show
Polk Museum of Art
Lakeland, FL
---
September 13 – October 26, 2007
Group Show
Southeastern Louisiana University Contemporary Art Gallery
Hammond, LA
---
May 22 – June 21, 2007
Two Solo Exhibitions – Bradley Wester and Elizabeth Duffy
Space Alternative Arts Venue
Portland, ME
---
December 6, 2006 – January 10, 2007
Group Exhibit curated by David Gibson (Earnest Rubenstein Gallery)
The Educational Alliance
New York, NY
---
June 1 – August 12, 2006
Group Show
Pavel Zoubok Gallery
533 West 23 Street New York, NY 10011
---
June 8 – July 8, 2006
Undergrowth:  Peggy Bates, Marc Van Cauwenbergh, Jim Lee, Bradley Wester
Group Show
Curated by Stephanie Buhmann
Gallery Sakiko
20 West 22 Street, #1008 New York, NY 10010
---
February 2006
Volume #62
Juror: Bill Arning, Curator at the MIT List Center for Visual Arts, Cambridge.
---
June 2006
Major Motion Picture: A large installation and two smaller pieces commissioned for two scenes in
the movie "Click" (Columbia Pictures); starring Adam Sandler, Christopher
Walken, and Kate Beckinsale;
Release date: June 2006
---
May 2005
Fulbright  Senior Specialist Candidacy
Proposal to research/study/travel in Turkey and Japan toward a new body of work was accepted by the J. William Fulbright Foreign Scholarship Board, the Bureau of Education and Cultural Affairs of the Department of State, and the Council for International Exchange of Scholars
---
Spring-Summer 2005 – Winter-Spring 2006
Chashama (AREA)
Studio Residency
40 Worth Street & Midtown New York, NY
---
April 21 – June 6, 2004
Bruno Marina Gallery
Solo Exhibition
372 Atlantic Avenue, Brooklyn, NY 11217
---
12 March – 15 March 2004
Lyons Wier Gallery
Hotel Gansevoort, New York, NY
---
December 1, 2003 – February 15, 2004
American Academy of Rome Visiting Artist
---
Sunday 16, November 2003
Postcards From The Edge (Visual AIDS Benefit)
Sunday 16 November 2003 at Galerie Lelong
526 West 26th Street, New York, NY
---
September 21 – October 26, 2002
The  Drawing Center 25th Anniversary Selections Exhibition
The Drawing Center, New York, NY
---
July 2002
Read the Bradley Wester "Take 5" interview by clicking to a resource website and forum for digital art and culture. Conducted by Scott Weiland via e-mail, and completed July 2002.
---