Jun 7–Jul 14, 2019
DEAD RINGERS, a group exhibition guest curated by Elizabeth Duffy at the Bristol Art Museum opens on Friday, June 7th, 6-8pm. Featured will be my "Disco Intervention: Queering the Military" digital print series, along with the work of eight other artists from six states.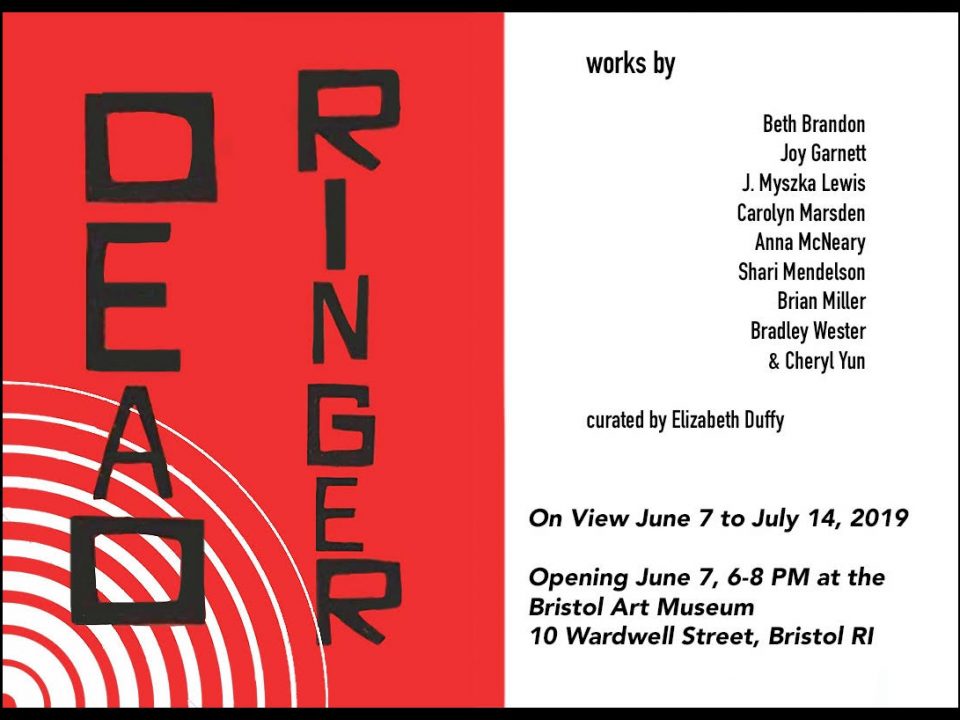 At first glance, the artists in Dead Ringer construct familiar objects: a bikini, a brick, a faceted glass vase. But on closer inspection, an undercurrent of disquiet and hidden meanings emerge. These artists ask viewers to disassemble their works, to consider both what they think they see and the epiphanies and realities that come with closer looking. Calm and order are vastly overrated in this moment of #MeToo, fake news and inexorable cruelty. Each of these artists makes works that are indelible, jaggedly smart and timely, looking at our moment and refusing to sugar-coat its anxieties.
In these arresting, transgressive images, artist Bradley Wester has found online rare and now impossible to find photos, taken by British military cadets of each other at basecamp. Some appear to be documenting hazing rituals. The most 'humiliating' of which are the ones that feminize or 'make queer' the soldier, including making them kiss or wear woman's underwear. Others are images of genuine affection between soldiers, who may or may not be gay. Wester digitally inserts a hovering mirror ball into each of these scenes, referencing both disco and surveillance drones, in an attempt to turn the implicit misogyny and homophobia in some of these images on its head. In a different context, outside the military, men dressing as or performing like women can be a celebratory expression of fluidity and diversity. The iconic disco ball, in Bradley Wester's Queering the Military Disco Intervention series, is symbolically meant to 'disarm' these images of soldiers not fighting, and render them part of a kinder, tenderer, sexier, more diverse place.
Bradley Wester takes photos of disco balls wherever he is in the world. He inserts the disco ball into his Disco Intervention series to look as if native to the scene, where the reflections actually appear to match the larger image. The found military images from the internet are low resolution. Wester increases the resolution and cleans up the images which finally have a hyper-real, videogame feel.
The Bristol Art Museum Presents​
Dead Ringer
Guest curator Elizabeth Duffy
On view June 7th– July 14th, 2019
​Artist Reception | Friday, June 7th @ 6-8 pm
525 Hope Street (rt 114)
​Bristol, RI
​02809
---
March 22, 2018
A moving experience and honor to help get a screening of the Diane Torr documentary MAN FOR A DAY at The Museum of Modern Art, and then to read a piece from my book-in-progress (at MoMA!) about Club 57, the early 80's in NYC, a near death experience, and Diane's and my early collaboration at St. Marks Danspace in 1982. It was the first part of the day-long above mentioned event/symposium, in conjunction with MoMA's exhibition, "Club 57: Film, Performance, and Art in the East Village, 1978–1983." Thank you, MoMA curators Ron Magliozzi and Sophie Cavoulacos.
---
June 23, 2017
An honor to have worked on this final realization of a collaboration with eminent composer Eve Beglarian: Light up Your face, that we may be rescued. In Memory of slain James Craig Anderson and slain civil rights activist Medgar Evers. My contribution appears in the last two minutes in this under five-minute piece—the color pixel video of Evers' home, site of his murder. (With technical expertise from Bruce Tovsky. Additional video by Matt Petty.) Eve and I presented the first version of this collaboration in 2013, live on stage, for The Day Before: November 21, 1963, a special evening presented by Symphony Space in New York City of works by over 60 Hermitage Artist Retreat fellows. The event was conceived and produced by Symphony Space's artistic director Laura Kaminsky and Hermitage Artist Retreat.
---
July 7–August 13, 2017
Group show curated by Emily Colucci
---
July 1, 2017
Solo exhibtion of the third installment of DISCOurse.
---
June 1–4, 2017
Attending the NonfictioNOW 2017 conference in Reykjavik, Iceland.
---
February 26, 2016
Studio visit-critiques with Tulane's Newcomb Studio Art MFA Graduate Students; New Orleans
---
February 12-March 14, 2015
First solo exhibition with the singular Pavel Zoubok Gallery in New York. This will be Part 2 of the project, DISCOurse: "DISCOurse imagines, in the here and now, a (queer) utopian futurity that is diverse, optimistic, joyous and fun—it puts the disco back into critical discourse."
---
December 3-8, 2015
I am included this year in the group exhibition ART IS HOPE which will be held during the celebrations for AIDES'—Europe's leading NGO in the fight against Aids—30th anniversary from December 3 – 8 in the new premises of PIASA Group (one of the main Parisian auctioneer with Sotheby's and Christie's) situated in Paris' golden triangle next to the Elysées Palace and the Hôtel Bristol, Paris 8. Catalogue will be available.
---
April 24-June 1, 2014
First Solo Exhibition with Yellow Peril Gallery, Providence RI
---